Use these tabs to learn more about myself and this website.
( Please note that any images you see on these tabs are enlargeable.)
"Bliss was it in that dawn to be alive / But to be young was very heaven."
— William Wordsworth, The Prelude
A Mountain Lifetime Gallery currently contains : 8104 images in 186 albums.
Just as any given peak has more than one way to reach the summit, I wanted to make sure getting to information at this site is both enjoyable and accessible in a number of ways. The basic premise is that everything is grouped by albums. Anyone who is familiar with
Flickr
will understand what that means.
Albums tend to cover a specific period of time — a trip somewhere, an expedition ... that sort of thing. If you interested in looking up a particular peak or region (state/province/country) use the menu links of the same name.
The menu of choices are designed to do the following:
1: An intro Slide Show — a short automated show of some favorites from my 'younger' days.
2: A simplified Flickr like list of all Albums. Albums are displayed in chronological order.

a. The album view displays a submenu of categories to fine tune your interest.
b. Some albums descriptions have a link to 'read more' ... a story as it were with more detail.

3: A full Chronology timeline by year. Each year may contain more than one trip. Each trip may contain more than one album. It's the "the whole enchilada".

a. The chronology view also displays a submenu of categories.
b. The chronology page also displays dynamic jump anchors to any given year which adjust automatically when you click a category link.

4: A Regions page which returns a list of albums for the selected region.
5: A Peaks/Climbs page that displays all peaks in a given location. You start by selecting a region. From that a choice of Regions is displayed.
6: A Collections page. Collections are albums that contain groups of related images and differ from regular albums in that they don't refer to a particular trip or year.1
7: A fully indexed Search page. Search results are the exception to the rule. They are completely independent of the album structure.
8: And finally, a simple Contact form.

The difference between the
Chronology
or list of all
Albums
pages and the
Regions
page is that the former has links to filter by activity — alpine, desert, backcountry skiing etc., while the latter can filter by region — state, province or country. The
Peaks/Climbs
page on the other hand is the best way to find a specific peak by way of filtering first by region and then location
#1.
Some albums are not specific to a particular year or trip. This can be the result of the troubling loss of numerous images from my early years of travelling out west. Or it can be because here in NH it makes more sense to group things like: rock & ice climbing, hiking and backcountry skiing into an album that is activity related. These images can be found on the
Collections
page.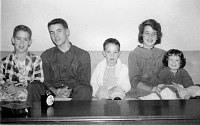 The five kids in the Cole family were introduced to the mountains purely by accident. We grew up in Westchester County NY in the Peekskill - Croton area. We'd been going to local day camps for a number of years when mom and dad figured out how they could get rid of us for the whole summer. Summer camp in NH was pretty exotic for us and I imagine a great relief for them. I can recall our father driving up to the Lakes Region when there were no Interstate Highways. Back roads all the way. I even remember Dad taking us up and over the Kancamagus Hwy when it was still a dirt road.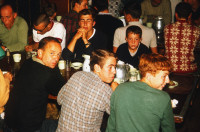 At one point it was a family affair these White Mountains. In 1965 after camp was over for the season, Chip, Rick and Bump Wilcox, Tom, our Dad and I were keen on some kind of Prezi Traverse. We got as far as Madison Hut. It being August, who would have thought that we'd get 6 inches of snow that night. Well we did, so all we got the next morning was a fine snowball fight. This was Dad's one and only foray into the backpacking genre. I really wish he'd been keen to do more.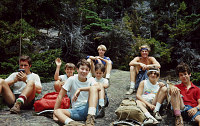 Most camps back then tended to be sports oriented. Lucky for us, we ended up at 'Uncle Miltys' on Purity Pond south of Conway. He ran the boys camp and his sister the girls camp. It was here that all of us were introduced to hiking in the White Mts. As far back as I can remember, whenever I was outdoors, I always seemed to have a camera in my hands. The camp staff would send our film off for processing and then a week or so later at dinner they'd come around with the slides or prints of our efforts as shutterbugs. They were primitive at best, but I still have a handful of those faded images.
At Uncle Milty's (Tohkomeupog [boys] and Wampanauk [girls], if you stuck around long enough you would find yourself working for next to nothing as a camp counselor (1968-70). Free room and board and the food was good. And of course, if you wanted to, you got to do an overnight backpacking trip with your campers once a week - or a canoe trip if that was your preference.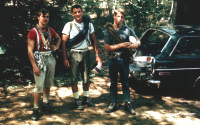 Nothing lasts forever, and by 1968 Chip and I had been introduced to rock climbing and motorcycles by Rick Wilcox who Chip had more or less spent every summer with as far back as I can remember. Uncle Milty didn't like either of those activities and eventually we found ourselves doing different things each summer. In my case in the summer of 1972 I went to work for Rick at EMS in North Conway for the princely sum of two dollars an hour. All of a sudden there were more than a few climbers around to feed my appetite. Work schedules were very conducive to climbing as we worked 3.5 days on and then had the same amount of time off. I was pretty lucky to have two mentors — I guess you could call them that. John Bragg and A.J. LaFluer both took me under their wing and guided my raw clumsy technique into something that actually worked. I'm grateful to both of them.
When Paul Ross and Rick came back from adventures out West in 1973, the rest of us were pretty convinced we wanted some of that too! That's where this story and the content of this website begin.
Top of Page